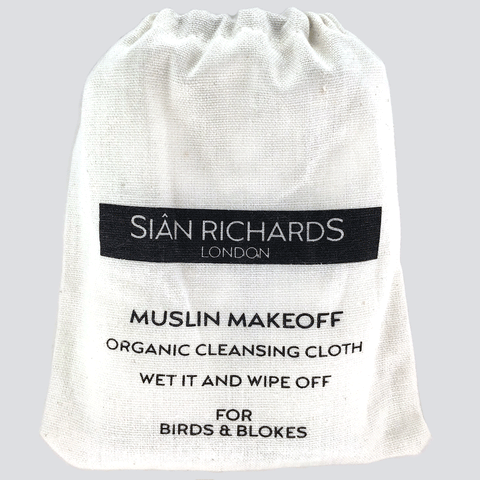 Sian Richards Muslin Makeoff – Organic Cleansing Cloth
Muslin Makeoff is an organic unbleached delicate fabric cleansing cloth that gently exfoliates skin and gives the deepest of cleanses. It is Eco Friendly, Reusable, Washable – just bung it in the machine – and a must have for all.
Muslin Makeoff is an organic unbleached washable and reusable muslin facial cleansing cloth and once experienced with change the way you cleanse your skin.
Cotton cleansing pads just can't compare, as muslin cleans and gently exfoliates skin pore deep,  giving skin a gorgeous healthy glow. Muslin Makeoff does this because it has a gentle consistent exfoliating texture that cleansing pads do not have, so every time you cleanse your skin with muslin, you are also removing dead skin cells and gunk that have accumulated on the surface, are stimulating circulation and in doing so preventing breakouts, blackheads and blemishes. Your skin will look fresher, smoother, more radiant and will be better able to absorb your chosen skin care. The finely woven texture is suitable for even the most delicate and sensitive of skins.
For centuries, women across the world used this organic delicate fabric to wash and clean their skin. Find out why.
Siân's Tip
Apply 4K Cold Cream Cleanser to your face liberally and massage it in using circular upward strokes. Do this to your neck too. Then soak Muslin Makeoff in warm water, wring it out and wipe off. Rinse and repeat again. For a truly divine experience, put some drops of essential oil such as Rosemary or Lemon in the water. You can even make a steam towel by putting in hot water, ringing out and placing on your face after cleansing. This will open up pores and ready your skin for any extractions you may need to do. Be gentle and enjoy your mini spa experience!
---
We Also Recommend