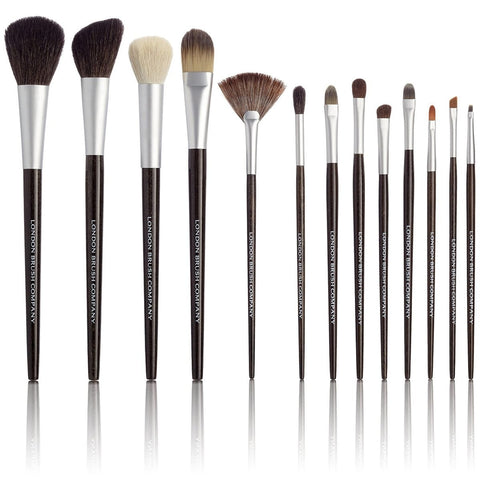 Sian Richards Debut 13 Piece Mixed Brush Set
Debut 13 Piece Mixed Set comes in a pouch and is a great starter set and was created because every makeup artist deserves a great start
Hair Type: Assorted Natural and Vegan Hair
Cruelty-free manufacturing ✓
100% renewable resources ✓
100% Made in USA ✓
Debut 13 Piece Mixed Set is for novice makeup artists and enthusiasts and is a great way to get started and grow your collection from. Let's get started! Every makeup artist and enthusiast deserves the best start, and these brushes offer a varied array of shapes for all types of makeup techniques.
Siân created this set for makeup novices as she knew that she needed to make something to give the next generation something great and affordable. When seasoned pros tried Debut Set out, they loved it too and this set is used for some of your favourite tv shows (Game Of Thrones, American Horror Story) and top makeup schools such as (Academy Award Winner) Christine Blundell Makeup Academy in London love it too!
Debut Set is a mixed hair brush set containing:
1 Body Brush made from vegan hair
1 Wedged Blusher Brush made from vegan hair
1 Flat Domed Foundation Brush made from soft taklon
1 Kabuki Brush made from goat natural hair
1 Soft Fan Duster Brush made from vegan hair
2 Flat Domed Concealer/Lip Brushes made from soft taklon
2 Eye Shadow Brushes made from natural pony hair
1 Eye Shadow Brush made from vegan hair
1 Lip Brush made from vegan hair
1 Slanted Eyebrow Brush made from vegan hair
1 Detail Brush made from taklon
How To Keep It Clean:
For a really deep clean, wipe off with IPA and then wash with hot water and Vegan and Goatmilk Brush Shampoo.
Goatmilk Brush Shampoo is the formula created for natural hair brushes as it conditions the hair as well as deep cleans. Vegan brush Shampoo cleans vegan hair and does not condition as much as goatmilk. If you were to choose one formula for this set, we would recommend our Vegan formula.
Once washed, this brush typically is dry and ready to use in around 5-50 minutes.

Wash all brushes before using.
Brushes made in USA
Pouch made in Thailand
---
We Also Recommend