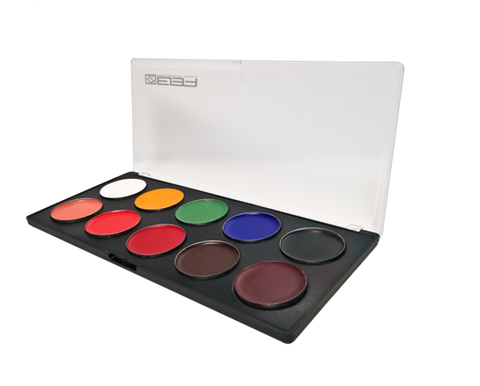 EVO Cream Palette - SFX
SFX - PRIME BLACK, PRIME WHITE, PRIME RED, PRIME BLUE, PRIME YELLOW, PRIME GREEN, BRUISE RED, FRESH BLOOD, MAUVE & DRIED BLOOD
The Next Step in Makeup Evolution!
EVO makeup is the next evolution when it comes to cream makeup. Unlike ordinary cream or cake makeup EVO dries quickly and provides an instant water and transfer resistant finish. Thus EVO creams are a perfect candidate for applications including tattoo and skin cover up, long-wearing foundation, special fx makeup and body painting.
Additionally, EVO creams are the first creams on the market matching the colours of Endura alcohol based liquids and Encore alcohol activated palettes. Thus EVO creams can be applied on sensitive areas including the face and around the eye where alcohol based products are limited.
Just as many other EBA signature products, EVO palettes are customizable when it comes to colour selection to suit individual needs. Additionally, each single colour can be ordered or replaced making sure you never run out of colours.
Application, Storage and Care
EVO creams can be blended to create custom colours and blends. Initially, EVO does not require water or alcohol activation, it comes ready to use. However, after opening and several uses EVO can slowly become drier and thus EVO Fluid can be used to further dilute the make up or to provide activation when needed.
EVO palettes come in an air tight bag limiting the exposure to air and extending its lifespan. EVO creams are designed to be used within 6 months in order to enjoy the best properties of the makeup and avoid excessive drying of the product.  It is highly recommended to limit EVO's exposure to sun, heat and air as much as possible. Additionally, EVO should not be left open when not in use and EVO's air sealed bag should be used for storage and transportation.
WHAT'S INCLUDED
EVO signature fully customizable magnetic case holding 10 individual colours
EVO air tight transportation bag
Instructions
EVO APPLICATION:
Tattoo and skin cover up
Long wearing foundation
Film and prosthetics makeup
Theatrical makeup
Haunt makeup
Cosplay
Body and face art
Stage and performance makeup
EVO ADVANTAGE:
Water, sweat and transfer proof makeup
Dries instantly
Color matched to EBA alcohol liquids and alcohol activated palettes
Fully customizable (colour selection for EVO palette)
Convenient restocking of individual colours
Designed for brush or sponge application
Easily Removable with VAPORE or

 EVO Fluid

FDA approved ingredients
---
We Also Recommend