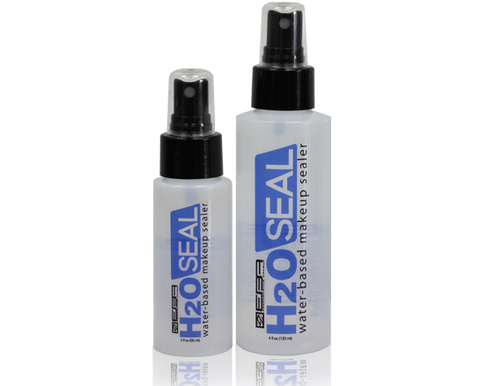 H2OSeal
H2OSeal is a water based sealer that is free of silicones or solvents.  The sealer provides up to 48 hours of water and sweat protection when applied properly. It can be applied over a large variety of makeup media including alcohol based, silicone, cream and water based makeups.  It can be used with an airbrush or spray pump. H2OSeal dries clear with a light to no gloss finish which can be further more adjusted and personalized by using setting powders.  If higher gloss is desired additional coats of H2OSeal can be applied.
Solvent free water-based formula
Seals makeup and works as a powerful waterproofing agent
Adds shine when used in multiple layers
Flexes, stretches, and moves along with a surface
Works effectively on skin and over prosthetics
Made in the USA by EBA with FDA compliant ingredients
Why and where?
H2OSeal can be successfully used to prolong the life span of beauty makeup, body painting, special fx makeup, airbrush tattoos, face painting and hair makeup.
How To?
When using an airbrush or spray pump it is recommended to use H2O Seal 15-20 inches from the surface in a sweeping motion. H2O Seal contains a high quantity of solids and, therefore, in many cases one to two passes of fine spray are sufficient. Use a light coat first and add more coats if necessary.  Always wipe and clear the nozzle before and between each spray in order to avoid larger particles or droplets accumulated on the tip of the airbrush or spray pump from getting transferred onto the makeup.
Always test H2O Seal over a small test area prior to main application.
---
We Also Recommend